Office Coffee Station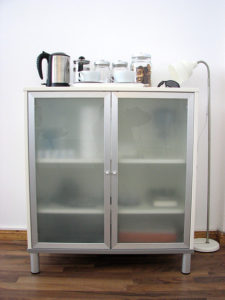 When it comes to your office coffee service, organization might be the furthest thing from your mind, as you're just trying to figure out if you want a coffee delivery service at all. However, when you do finally find the right delivery service with the right products that fit your needs, organizing your office coffee station should be the priority.
When thinking of organization for your coffee station, you'll want to consider a few things to help your employees access the coffee and accessories more easily and to offer an aesthetically pleasing space in which to display your coffee products.
The Counter Coffee Station
You can style your own coffee station on an already exiting counter in your office's kitchen. If you only have a small amount of space, use some type of tray to put all your coffee essentials in a group to decrease clutter and allow for employees' easy access. If you lack some cabinet space, you can also add a shelf above your coffee machine to place cups and excess coffee or condiments. If you have a larger space to work with, simply arrange your station in a way that expresses your office's individuality. This could turn into a team-building exercise, wherein employees work together to rearrange and organize the coffee station to their specific needs.
Carts and Side Tables
With smaller offices that may not have a spacious kitchen (or a kitchen at all), using a side table or cart works perfectly. Not only are carts or side tables space-saving pieces, but they also allow your coffee station to become mobile. This can be fantastic if you're involved in a meeting with important clients and want to bring the coffee into a conference room for the convenience of all meeting attendees.
Customization
If your office kitchen has enough space for cabinets (that isn't occupied by cups and other coffee essentials), you can customize your office coffee station by hiding your coffee essentials and eliminating clutter on counters. A customized coffee station is a great way to show off your office's personality. There are many ways to customize a coffee station. For instance, you can have someone build open shelving for a modern look that displays unique cups or fancy coffee stirrers. For a simple way to customize, add twinkle lights around the station for those who love to burn the midnight oil.
If you're looking to help certain individuals in your office feel more included, jump on any of these selections. CoffeeDelivery123.com wants to provide you with the best resources on the web for office coffee delivery, coffee service, and office coffee reviews. Let us find your office professional providers to help bring inclusion into your workspace and create a harmonious environment.