The Perfect Match
Peanut Butter and Jelly. Ham and cheese. Everything has its match. But for coffee , it seems there are several food items that could be its lifelong partner.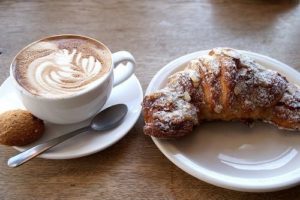 The complexity of different coffee brews make it a great drink that pairs perfectly with many different dishes. Next time you whip up a snack, try some of these excellent couplings. With coffee delivery NYC you'll never want to stick to just donuts ever again.
Beignets
Who doesn't love this New Orleans-fried powder sugar dough delight? If you've never had it before, you're definitely missing out! This is probably, arguably, one of the greatest coffee and food pairings to have ever been created, and we owe it all to the magic that happens whilst dunking your beignet into whatever brew you have for the day. It's good right down to the last sugar-sludge sip!
Coffee Cake
You seriously can't go wrong with this classic. It has the word "coffee" in it, for goodness sake. That has to account for something, right? We're sure you've got your own desserts in mind when you're selecting your brew of choice. But, please, don't forget about the coffee cake. Not too flakey, not too sweet, and actually freezes pretty well if you're known to make an overabundance of it.
Mini Croissants
Making croissants is a labor of love, but what greater love is there than love of butter? You'll surely be sweet on these savory stuffed mini croissants. This delightful option is for anyone looking for a no-sugar option to complement their daily coffee kick with coffee delivery nyc.
Mini Sticky Buns
Good news for all you glaze lovers out there! You can have the sticky buns you love without feeling overindulgent. Here, toasted pecans and brown-sugar syrup finish the job and make for the perfect mini coffee companion.
Pumpkin Doughnut Muffins
A hybrid of the classic donut and muffin, pumpkin doughnut muffins can be a great alternative for those over the doughnut/muffin craze and looking for something a bit more daring. Though it's not so far removed from the classics coffee drinkers love, it does make for a light and cinnamon-y treat.
Pizza
Whether you pair pizza with soda, juice or water, you can't really go wrong — but you could hit it out of the park by pairing it with coffee. I know, it sounds a bit strange, but trust us, it really isn't that odd. Coffee and pizza are actually a match made in heaven. With the bold taste of java enhancing the sweet tomato and cheesy goodness of pizza, lunch never tasted like this! All you need to do is get someone to order the pizza for you.
From breakfast to dessert, coffee is a delicious drink to sip with food. And the classic coffee-food pairings we mentioned are easy to enjoy at a casual morning meeting or a care-free company lunch.
CoffeeDelivery123.com wants to provide you with the best resources on the web for office coffee delivery, coffee delivery nyc , and office coffee reviews. Let us find your office professional providers to help bring inclusion into your workspace and create a harmonious environment.
Setup Coffee Delivery Service?